Modern Webdesign
For modern businesses.
Webdesign
We design modern Websites that work on all devices. You can easily edit contents yourself, and for larger Design changes we are here to support you.
Hosting
We offer affordable Hosting including E-Mail and Domain Management for all our customers. No technical know-how is required, we set everything up and maintain it for you. We are also happy to help with setup on other Hosting Providers.
Marketing
In addition to search engine optimization we also help to advertise your website and products via internet marketing. We design an efficient strategy that covers all areas, instead of independent marketing efforts.
Procedure
Four easy steps to your own professional Website.
Step One
We find out about your requirements and goals in a kick-off meeting, in person or via telephone.
Step Two
We design a first prototype of your website. We will then make changes to the design to make it fit your vision.
Step Three
After we complete the website you can add, or let us add, additional contents. After that is done we will optimize the website for search engines.
Step Four
The website is ready and can be put online! Of course we will be at your side – you do not need any technical knowledge.
High-Quality Web Presence
Every Website we create is modular, fast and secure.
Careful Design
Every website we create is up to the latest design standards and will be relevant for years to come. Your visitors will be impressed by the design and functionality.
Optimized for Speed
Nobody likes to wait until a website has loaded. With a smart mix of design-time optimization and special improvements on the Hosting side we get your website to top speed.
Security
It is one of our priorities to protect your website against hackers as well as possible, and to make sure it can be reached even during possible DDoS-attacks.
Easy Editing
Due to an easy-to-learn user interface you can make content changes on your own at no cost. If you need any help we are here to support you!
Two of our favorite Projects: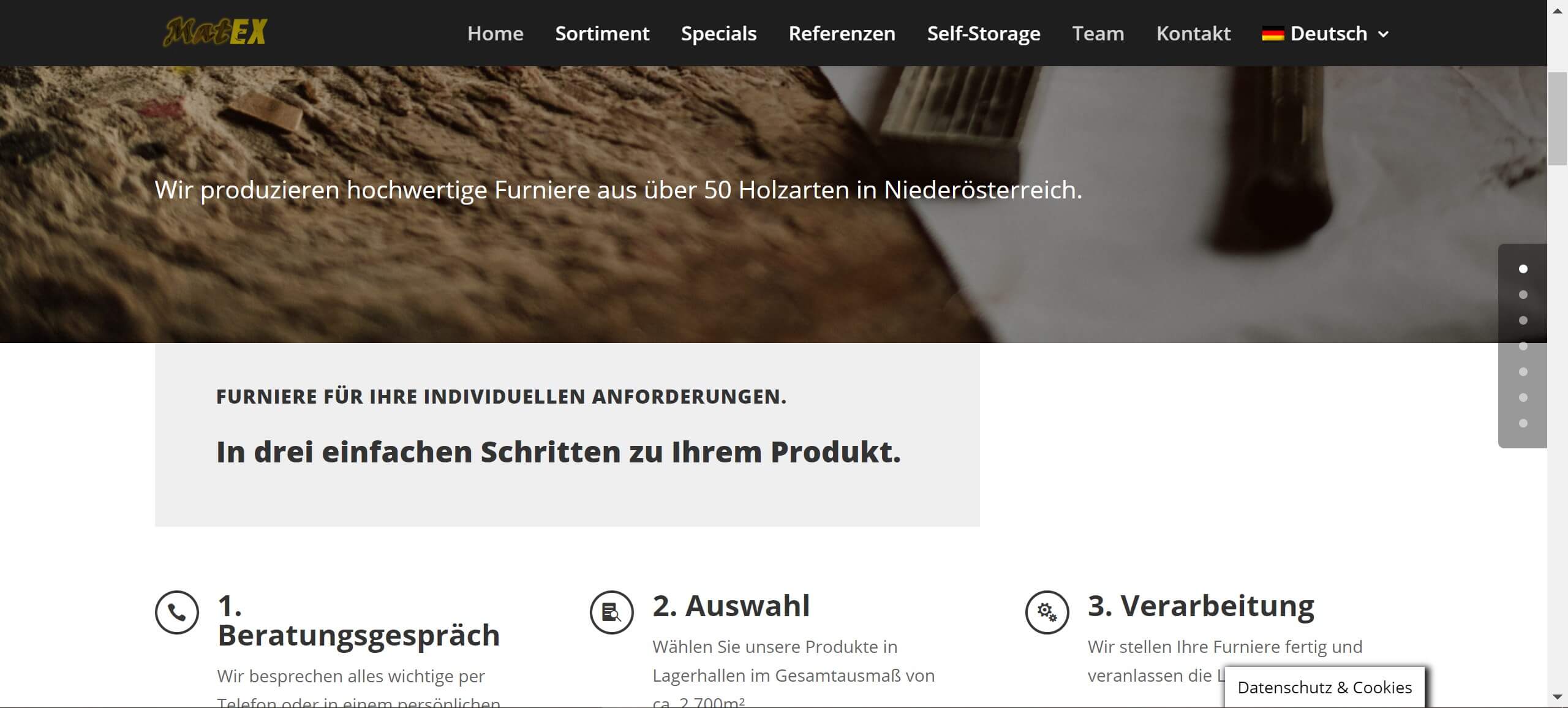 Mat-Ex
MatEx produziert hochqualitative Furniere aus diversen Holzarten nach Ihren individuellen Anforderungen, direkt in Niederösterreich.